Tribute to Nancy Zieman




Educator, author, seamstress, sewing and design icon, businesswoman, an extraordinary women.
Nancy Zieman was an icon in sewing and design. She mentored sewers, myself included, for years and offered her knowledge via public TV before there was an internet. She died this past November.
We celebrate the rewards, her legacy, her hard work, and love of sewing today. We mark her passing and know that home sewers will continue to march forward in her vast shadow. Change comes hard, but change she brought.
She will live on in the future seamstresses of the next generation. But the loss will be felt regardless of the videos, patterns, and books her name represents. She will be missed.

FYI
Student Highlights

This bra was sewn last spring by a returning student. It was her third bra. Her talent and hard work of learning to sew and design bras is demonstrated here.
Consider making your second or third bra. Build on your knowledge and experience and see what you are capable of creating. Check out the the information in the "Bra Making 102..
Take a look at the 2018 calendar here...Find a workshop time that will work for you.

Bra Fit Test

Getting the real look of a new bra design or pattern can be difficult until the the elastic seam and strap are sewied down. Use pins instead to get the exact fit for the strap and to test out how the finished bra will look and make changes accordingly.
This is the newest bra pattern for the Bra Making 101 workshop. A lined, padded, and seamed bra comes in multiple band and underwire sizes.

Bra Kits What to Know

The kit pictured above is complete with all the products you would need to sew a lined seamed bra with underwires. Look for premade straps, simplex, high quality plushy backed elastic for the upper and lower band. Lace is optional. Band fabric must be a four way strech material.
The best underwire channeling has a plushy back as well.



Technique Corner

No-Fuss Lining with Misty Fuse

Misty Fuse is a very sheer adhesive fabric that will fuse different layers of fabric for a permanent bond. Shown here is Misty Fuse sandwiched between cotton bra lining and the cup padding. Simplifying the lining process.
BraMakers supply carries this great product.
Hot Blogs and Fashion
A Perfect Christmas Present:
The gift that keeps giving.
Well written and easy to follow with great directions for the entire bra making process. Patterns are included for learning purposes. Click Here or click on the photo below: to read the full review of the book "Bare Essentials Bras Contruction and Pattern Drafting for Lingerie Design" written by .blogger "The Perfect Nose: Sewing, Illustration, and Design.
"The Perfect Nose. Sewing, Illustration, and Design" blog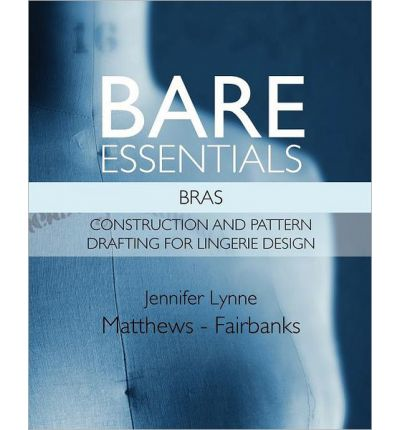 First thoughts: Sweet mother of boob-gasm...
Take a Stitch - Sew Your Dreams