Bra Padding... What's it all about?
May 14, 2016
Ever wonder about those pads that line most bras? I watched a video that showed a bra pad being stretched and formed using tools and a heat source set up for the exact form planned. It was interesting and informative. I don't have anything like that laying around my home to form padding in that way.

What is all the hype about anyhow? Why use foam or pads at all especially if you are endowed and don't want to add to your size?

Padding can be a great asset to any size bra. There are exceptions to every situation. But perhaps if you are wondering, it might not hurt to see what they can do for you. Bra padding variety differs from one brand to another.

Shown here in the image below are some of my stash. I have tried most of them and some I have designed from foam using my bra pattern.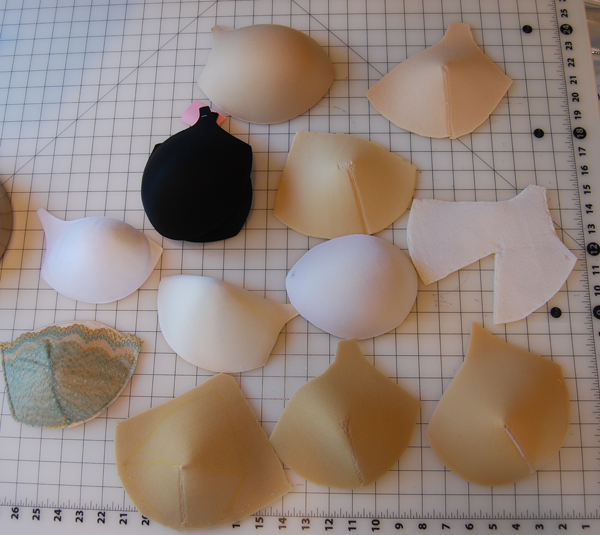 Shown here are a combination of purchased ready to use pads along with my own pattern variations.
My findings range from the local fabric stores to special order from internet stores that sell bra materials. I find them to be as standard as the patterns. But I have gained a huge understanding of why padded ready to wear bras don't fit me. I have to conform to the size, while my size is pretty close to a standard, there are a few things that ruin ready to wear bras for me.

It's only natural that after making quite a few bras without padding that I would try my hand at adding padding. This is my saga and what I have learned.

There are three excellent foam padding types that are inexpensive and are of great quality. The first which is my favorite is found at Bra Maker's Supply - Dyeable White Foam Padding, shown in the photo above with the seam or dart unsown. it is appro. $25.50 for a yard. Out of which you can get many pairs of cups. Compared to the price of $7.00-$9.00 per pair of molded cups.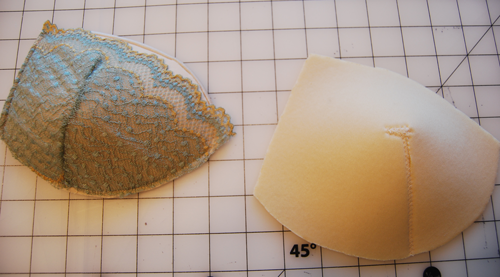 Shown above are two cups made out of foam padding
I have had great success molding and creating my own foam cups. The padding gives the cup great shape and form without adding bulk or enlarging my cup size. The bras feel stronger and seem to last longer.

Bra Maker's Supply also carries Pre finished foam padding in many different colors for appro. $25.50 a yard. A soft but yet durable material that gives perfect form to the cup. A great choice, and a great value in my experience.

The swimsuit foam is designed to be lightweight and moldable. It is priced less at $12.75 per yard. I would highly recommend this padding. Molded pre made swimwear cups are available for purchase also. Priced similar to pre made foam bra cups.

The second type of padding is called Poly laminate foam, sold on line from Sew Sassy . Priced at $17.50 per yard. They offer black, white and tan.

The third foam padding is stocked by the Fabric Depot. An online store based in Texas with a site full of great lycra fabrics for swimwear and yoga wear. They also offer pre made foam cups for both bras and swimwear. Their version of the padding is offered in the 1/2 yard and full yard. The most expensive of the three suppliers found on line at $28.00 for a full yard.

I have used the padding from all three of the online stores I mention here. Any one of them would be acceptable and give a great finished product. Pre made bra foam cups vary in so many ways that it would be impossible and very expensive to do a test analysis of all the cups currently sold on the internet and in local fabric stores. My advice is to question some specifics:
Do the cups have addtional padding built in for bust enhancement?
How are the sizes gauged, underwire edge or cup? Can you get close to you cup size and still use your underwire size?
Does it specify what the cup should be used for, i.e., Swimwear verses Bras.
Does it list the fabric ingredients, (Looking for allergies to latex or other man made products added).
Foam padding is easy to use and very functional for most formed cup needs. Be open and give it a try. You may just find the change you are seeking.