Sewing Ready to Wear:
Look A-likes.
February 10, 2021
With the internet comes a way to shop at home and really study the design and style of clothing. Going shopping has become a way for me to understand how clothing looks and feels on. And what it might take to recreate the look and the pieces I find that I really want to own.

When I used to shop for patterns and fabric to sew for myself, I would find a pattern I like, then try as heck to find a fabric similar to what was pictured in the pattern. Usually with terrible results.

I don't want to sound like a broken record here as it results to finding fabrics to go with the patterns offered, but it was a huge challenge, which did not lead to a great working wardrobe. Or rarely did.

The reality is that patterns manufactures and fabric stores are offering better options to make stylish clothing. Just check out all the blogs with great looking me-made clothing.

I don't usually use a pattern to decide what I want to sew, not today. I find inspiration ideas. Clothing I want to wear. And clothing that fits my lifestyle. Which is how I came to sew this great jumpsuit and cocoon jacket. Shown below.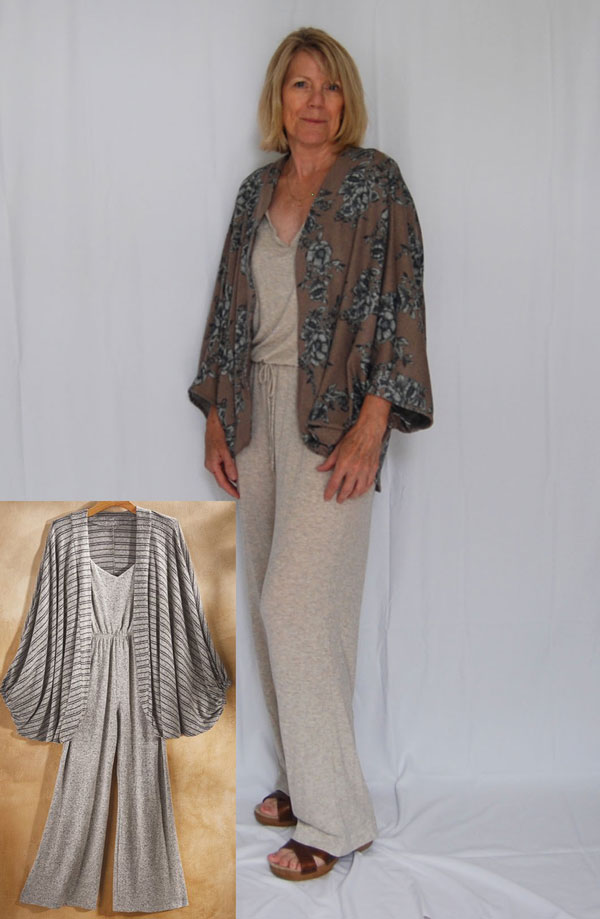 I already had this cotton rib knit fabric. I found the french terry fabric for the cocoon jacket on line.
The jumpsuit is a pattern variation from ( Simplicity ) and my own bottoms pattens combined with a few changes to the top. I created a casing for the elastic and tie.


The jacket is a pattern I found that resembled the inspiration piece fairly close. I was able to cut the pattern using the fabric I had found to match the jumpsuit. It was easy and fast and fits great.

It is easy to determine the fabric used for an inspiration garment by reading the information listed on the ad. Most retailers offer the fabric used, washing instructions, and where the garment was made.

Any project can have issues. Even basic simple garments. Which is why I like to delve deeper into what appears difficult. Often things that look hard are a lot more simple than expected.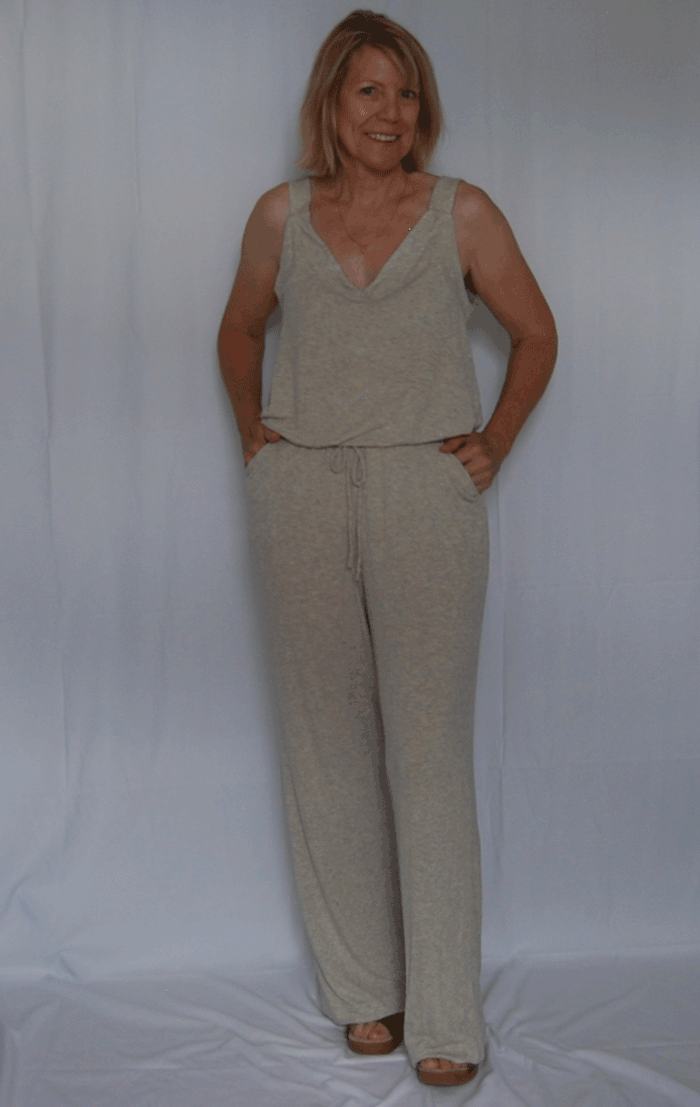 The jumpsuit fits great and is so comfy without the jacket.
I did have to move the straps in about an inch. I set the v-neckline to a height I liked. And added a tuck at the bottom of the bodice on each side about 1 inch extra fabric for drape over my hips. But after wearing it a few times the straps are still to wide and need some kind of interfacing to stop them from stretching.
I love the feel and movement of this fabric, but because it is a rib knit, it has a lot more stretch. I likely will find a more suitable fabric next time I make it.
I love the jacket and the pattern was so simple and easy to cut out, however, putting it together to sew requires the use of all the markings to help find the center front neckline and to help define how the sleeves sew together.

It would be best to have a bottom's pattern, that is already fitted and tested in a muslin, to make the jumpsuit. PJ bottoms are the easiest to fit and would work great for this pattern.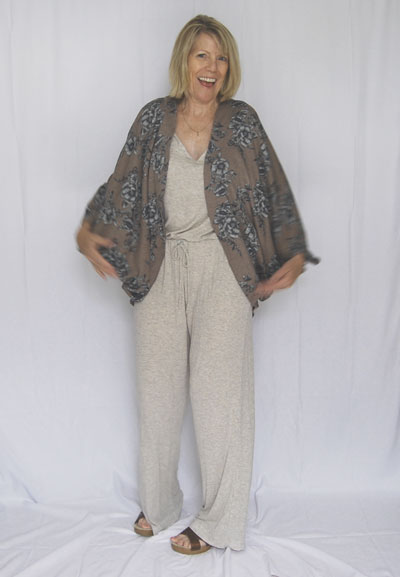 The rib knit, used to make the jumpsuit, provides great drape and stretch.
Creating clothing that is found in retail is easier than you would think and at a much lower cost. The reward is knowing you created it to fit yourself perfectly.

Making something like this jumpsuit can open up other sewing options for any style jumpsuit. Making quick work of recreating very expensive ready to wear garments.

Total cost for both was $65.00, and that includes the patterns I used. The total cost for these garments purchases would have cost me about $160.00 with shipping extra.