Bra Back Closure Options:
January 3, 2019
Bra making supplies are offered on line and are also finding there way into our local fabric stores. I have used all forms including, bra closures from old or even new ready-made purchased bras. Loop tape to purchased individually sold closure sets are widely available.

For bra makers purchasing a full bra kit usually includes the closure cut and correctly sized. But you can't count on that happening with every kit.

Closure width is determined by the depth of the bra back band. And the support the band will need. Typically the closure must reflect the bra size. Although, this is a rule you don't have to always follow.

The process of sewing your own bras creates the option to determine how wide the closure will be on your body and allowing one to determine how tight the bra needs to be. As a life-long seamstress always searching for products to create my perfect garment, availability is the key.

Creating a perfect fitting streamline back bra closure is essential in the strength and durability of a finished bra.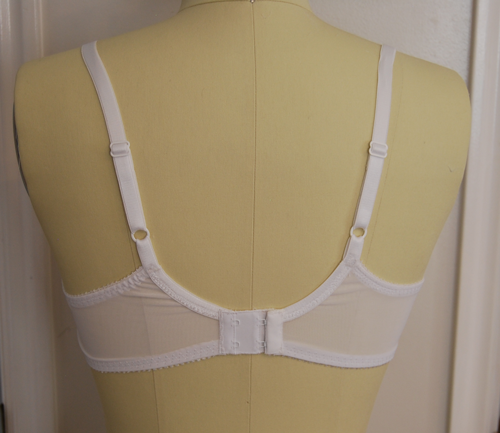 Shown above: The perfect back closure for this size of band.
The bra in this photo was sewn by a student with a smaller than average frame. In this first class she was able to create a beautiful bra back.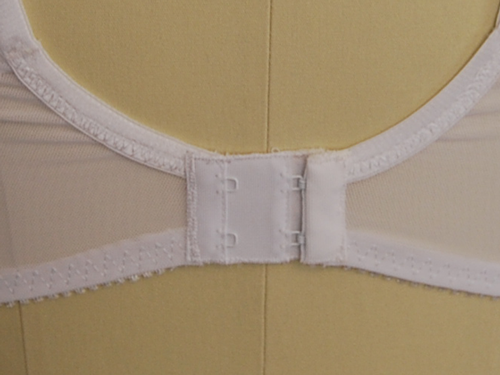 A close up shot of the closure shows the edges finished with a small zigzag stitch.
This closure has two rows of hooks and loops. It can be extended to three or even four.

Bra Maker's Supply carries the options for individual back closures. They provide an array of color choices that will match their other bra making products, fabrics, and laces.

They are designed to be used in a single bra which makes them a great option when putting together your own bra kits.

Bra back closures are also available in yardage which enables one to cut it to the size desired and to dye it the specific color needed. Sew Sassy offers this product by the yard with different hook spacing.

Fabric Depot is another great online bra supplier. I have purchased from all three of these stores. They all offer great products and many options for bra making variety.

I have to mention here that fabric stores also sell a bra extender which can give your bra an increase of at least 2 but possibly 3 sizes. It has a combination of both hooks and loops sewn on. You attach it to the bra closure to provide the extention. Changing a bra closure is actually easier than one might think on a purchased bra that is either too big or too small. It can even be done by hand with a needle and thread.

Listed here are some tips for sewing a bra closure.
The narrow band of hooks is sewn to the right side of the back band.
The wider row or rows of loops is sewn to the left side of the back band.
Measure the back band to ensure that it will fit your desired closure and adjust before you secure the elastic on the band.
A well secured proper back closure will increase comfort and bra wearing longevity. Various options of bra closures are shown in the photo below and are numbered.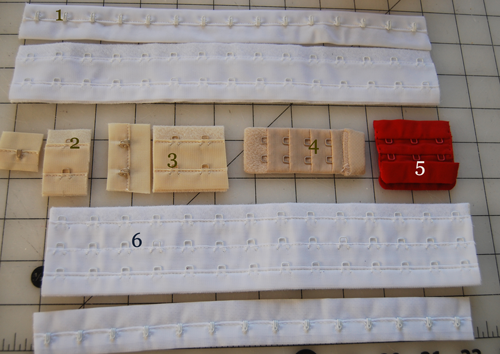 Various options for types of available bra back closures.
1. Yardage of double row hook and loops.
2. A single cut hook and loop closure.
3. A double cut hook and loop closure.
4. A bra closure expander with hooks that will lengthen and enlarge a bra band.
5. A double hook and loop closure dyed red with edges finished, is purchased separately.
6. Yardage of three row hook and loops.

To summerize, don't be afraid to repair your worn bra, or to extend the length of a bra. And consider sewing your own bras.